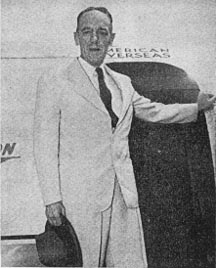 A native of New York City, Bronk was born on 13 August 1897, attended Swarthmore College, the University of Michigan, and from 1929 to 1940 was Professor for Medical Physics at the University of Pennsylvania. Later in 1940 he was appointed Professor of Physiology and Bio-physics at Cornell Medical School, NYC. Favorable investigations were undertaken of Bronk by the FBI for government-related work in both 1941 and 1947. According to FBI papers of 1961 on Bronk, "…he is a member of the President's Science Advisory Committee and has been President of Rockefeller Institute for Medical Research, NYC, since 1953. He has served on many government committees in a consultant capacity and is recognized throughout the country as one of the nation's top scientists." During his working life, Bronk also served as Chairman of the National Science Board, President of the National Academy of Sciences and National Research Council.
Relevance to Majestic Documents
According to the "Interplanetary Phenomenon Unit Summary, Intelligence Assessment": "…As to the bodies…it appears that none of the five crew members survived entry into our atmosphere due to unknown causes. Dr. Detlev Bronk has been asked to assist in the autopsy of one well preserved cadaver to be done by Major Charles E. Rea." The so-called "Eisenhower Briefing Document" identifies Bronk as a member of the Majestic 12 Group and involved with conducting alien autopsies.
Detlev Bronk's FBI Files

Part 1a (10.2 MB)


Part 1b (14.1 MB)


Part 1c (14.2 MB)


Part 1d (12.7 MB)


Part 1e (11.9 MB)

Part 2a (11.2 MB)


Part 2b (11.1 MB)


Part 2c (11.0 MB)


Part 2d (11.6 MB)

Detlev Bronk / Truman (3.1 MB)

Detlev Bronk Referrals (11.1 MB)