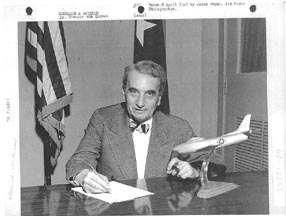 Theodore Von Karman was a mathematical prodigy and his father, fearing that his son would become a freak, steered him towards engineering. He graduated in 1902 from Budapest and from 1903 to 1906 he worked at the Technical University of Budapest. Von Karman left Budapest to study at Göttingen, where he was greatly influenced by Klein; and Paris where he watched some pioneering aviation flights, which turned his interest to apply mathematics to aeronautics. In 1911 Von Karman made an analysis of the alternating double row of vortices behind a flat body in a fluid flow, which is now known as Karman's Vortex Street. In the following year Karman accepted a post as director of the Aeronautical Institute at Aachen in Germany.
He was to visit the United States in 1926 and four years later he was offered the post of director of the Aeronautical Laboratory at California Institute of Technology. Despite his love for Aachen, the political events in Germany persuaded him to accept. In 1933 Von Karman founded the U.S. Institute of Aeronautical Sciences where he continued his research on fluid mechanics, turbulence theory and supersonic flight. He studied applications of mathematics to engineering, aircraft structures, and soil erosion.
Relevance to Majestic Documents
Von Karman's name appears in a number of Majestic-related documents. He is listed as a Contributing Member on the "White Hot" report of 19 September 1947, and is also referred to in the 16 July 1947 "Air Accident Report" on 'Flying Disc' aircraft near the White Sands Proving Ground, New Mexico.
Theodore Von Karman's FBI Files:

Part 1a (13.3 MB)


Part 1b (12.0 MB)

Part 2a (10.6 MB)


Part 2b (15.4 MB)


Von Karman UFO Link, 12 May 1949 (242k)
As an annex to Von Karman's FBI file, we include here a four-page document found in the files of the U.S. Air Force's Office of Special Investigations at the National Archives and Records Administration at Maryland. The document is dated 12 May 1949 and is titled UNKNOWN [Aerial Phenomena], Review Reports and concerns a 27-28 April 1949 meeting at Kirtland Air Force Base, New Mexico, where Dr. Joseph Kaplan of the Air Force's Scientific Advisory Board reviewed official reports of unexplained aerial phenomena. Interestingly, the document reveals, Dr. Kaplan had been ordered to conduct the review by none other than Dr. Theodore von Karman. This demonstrates a clear and undeniable link between von Karman and UFOs. The document also refers to the involvement in this issue on the part of the Armed Forces Special Weapons Project that is referred to in the Interplanetary Phenomenon Unit Summary as having secured the site of a UFO crash in July 1947 at Oscura Peak, New Mexico.