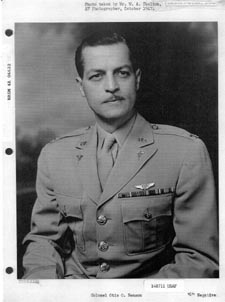 Benson became a First Lieutenant in the Medical Reserve, United States Army, on 6 June 1930; and was made a First Lieutenant in the regular Army Medical Corps on 21 July 1931 and by 1947 had reached the rank of Major. He was awarded the Legion of Merit and Cluster for the Fifteenth Air Force in the Mediterranean Theater. He was appointed commander of the Aeromedical Research Unit, Wright Field, Ohio in September 1940. Under General Benson's direction, the Aeromedical Research Unit was withdrawn from the Equipment Laboratory and made a separate laboratory with three units of its own (Physiological, Biophysics, and Clinical Research). The Aeromedical Laboratory also was moved from its overcrowded quarters into a new building of its own on Wright Field. General Benson organized a research program for the laboratory, which persisted throughout World War II. He staffed the laboratory with nationally know scientists. In collaboration with the Mayo Clinic and others, he established the human centrifuge unit that developed the Anti-G suit. Prior to World War II, he recognized the need for a radically different method of supplying oxygen to aircrews in high altitude bombing. Under his leadership, the diluter-demand oxygen system was designed and perfected.
General Benson was awarded the John Jeffries Award in 1951 by the Institute of Aeronautical Science for "outstanding contributions to the advancement of aeronautics through medical research." Well in advance of other medical investigators he encouraged studies of the possible effects of space travel on the human body. Such things as vaporization of body fluids above 63,000 feet, use of algae as a biological gas exchanger, artificial day-night cycles, planetary atmospheres, weightlessness, and the design and procurement of a space cabin simulator were begun at the School of Aviation Medicine during General Benson's tour as commandant.
Relevance to Majestic Documents
Benson is named in the "Aero Medical Laboratory" document of 20 September 1947 that concerns a mid-air collision between a military aircraft and an unidentified object. In 1950 Benson co-edited the book Physics and Medicine of the Atmosphere and Space with Hubertus Strughold. Strughold's name appears in the "Interplanetary Phenomenon Unit Summary" and he is identified as being present at a UFO crash site in New Mexico in 1947.

 Otis O. Benson's FBI File (969k)